Mesa Airlines Launches Direct-Entry Captain Position to United Airlines
PHOENIX, Feb. 07, 2023 (GLOBE NEWSWIRE) -- Mesa Airlines, Inc (NASDAQ: MESA) is launching a Direct-Entry Captain Position for highly qualified candidates with a 24-month flow to United Airlines. Qualifications are as follows:

Airline Transport Pilot License (ATP).
A minimum of 1,000 hours of Part 121.436 qualifying experience.
Must have flown 100 hours within the previous 12 months.
Current FAA First Class Medical Certificate.
Must pass security background check and FAA mandated drug test.

With the launch of the Direct-Entry Captain Position to United, Mesa will offer highly qualified candidates the most competitive overall package in terms of compensation and career opportunity, including:
$110,000 sign-on bonus paid in full at completion of training.
Longevity match program for pilots who have worked for any Part 121 or Part 135 carrier.
Earning potential between $150 to $215 a flight hour as a Captain at Mesa before transitioning to United.
Multiples bases to choose from, including Phoenix, Houston, Washington Dulles, Dallas, Louisville, and Denver.
Jonathan Ornstein, Chairman and CEO of Mesa said, "This program provides an incredible opportunity for Captain qualified candidates to have a direct flow to United's flight deck and advance their career goals in just two years. United is the fastest growing, best positioned and most employee friendly airline in America."
Candidates for Direct-Entry Captain have immediate class dates available without training delays. Pilots with this level of skill and who aspire to fly for United are welcome to contact us.
Interested pilots can apply on Airline Apps with a submission deadline of February 28, 2023, to be considered for the position. Visit Mesa-Air.com/direct-entry-captain for more details.
About Mesa Air Group, Inc.
Headquartered in Phoenix, Arizona, Mesa Air Group, Inc. is the holding company of Mesa Airlines, a regional air carrier providing scheduled passenger service to 106 cities in 42 states, the District of Columbia, the Bahamas, Cuba, and Mexico as well as cargo services out of Cincinnati/Northern Kentucky International Airport. As of December 31, 2022, Mesa operates a fleet of 145 aircraft with approximately 293 daily departures and over 2500 employees. Mesa operates all its flights as either United Express, or DHL Express flights pursuant to the terms of capacity purchase agreements entered with United Airlines, Inc., and DHL. Mesa is leading alternative aviation with proud partners Archer Aviation electric air taxi, Heart Aerospace the manufacturer of 30 seat all electric aircrafts, Elroy Air the developer of hybrid cargo platform, and Regent electric Seagliders.
Investor Relations
Doug Cooper
IR@mesa-air.com
Media
Media@mesa-air.com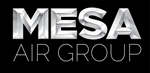 Source: Mesa Air Group, Inc.