Mesa Airlines Names Andrew Lotter as Vice President of Flight Operations
PHOENIX, June 06, 2023 (GLOBE NEWSWIRE) -- Mesa Air Group, Inc. (NASDAQ: MESA) - Mesa Airlines Inc., a wholly-owned subsidiary of Mesa Air Group, is pleased to announce the appointment of Andrew Lotter as the new Vice President of Flight Operations. Lotter will succeed John Hornibrook who is retiring from the Company.

Lotter brings over 25 years of aviation industry experience and has held several executive positions in operations including Chief Operating Officer at Avelo Airlines, President of Ameriflight and most recently Vice President of Operations at Omni Air International. He has also held positions as Chief Pilot, Check Airman/Pilot, Simulator Instructor and holds numerous type ratings with over 10,000 total hours.
"We are excited to welcome Andrew to Mesa," said Michael Lotz, Mesa Air Group President. "His in-depth knowledge of Flight Operations, combined with his proven ability to develop and execute effective strategies, makes him an ideal fit for his new role at Mesa. He is a proven leader with a wealth of operational expertise and a passion for excellence."
"I am honored to be a part of Mesa Airlines and look forward to leading the flight operations team," said Lotter. "I am excited to work alongside the talented team to further enhance the airline's operational performance and drive continued success."
About Mesa Air Group, Inc.
Headquartered in Phoenix, Arizona, Mesa Air Group, Inc. is the holding company of Mesa Airlines, a regional air carrier providing scheduled passenger service to 106 cities in 42 states, the District of Columbia, the Bahamas, Cuba, and Mexico as well as cargo services out of Cincinnati/Northern Kentucky International Airport. Mesa operates all its flights as either United Express, or DHL Express flights pursuant to the terms of capacity purchase agreements entered into with United Airlines, Inc., and DHL. Mesa is leading alternative aviation with proud partners Archer Aviation electric air taxi, Heart Aerospace the manufacturer of 30 seat all electric aircrafts, Elroy Air the developer of hybrid cargo platform, and Regent electric Seagliders.
Contact:
Mesa Air Group, Inc.
Media
Media@mesa-air.com
Investor Relations
Doug Cooper
investor.relations@mesa-air.com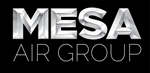 Source: Mesa Air Group, Inc.