Mesa Airlines Names Lorraine Dimarco as Vice President of Maintenance
PHOENIX, May 11, 2023 (GLOBE NEWSWIRE) -- Mesa Air Group, Inc. (NASDAQ: MESA) - Mesa Airlines, a leading regional airline, is pleased to announce the appointment of Lorraine "Lori" DiMarco as its new Vice President of Maintenance. DiMarco will be responsible for overseeing all aspects of Mesa Airlines' maintenance operations and replaces Christian Daoud who has resigned from the company.            

With over 33 years of experience in the aviation industry, DiMarco brings a wealth of knowledge and expertise to Mesa Airlines. She began her maintenance career as a hangar and line mechanic at JFK airport in New York for Trans World Airlines, working on the Boeing 747 aircraft. Most recently, she served as Vice President, Technical Operations of Eastern Airlines, where she successfully led the maintenance and engineering team. She has also held senior maintenance positions at Air Canada and Jet Blue.
DiMarco earned a Bachelor of Science degree from City College of New York and a Master of Business Administration from Dowling College.
"We are thrilled to welcome Lori to our team," said Michael Lotz Company President. "Her extensive experience, leadership skills, and educational background will be invaluable as we continue to grow and expand our operations."
As the Vice President of Maintenance, DiMarco will be responsible for ensuring that Mesa Airlines' aircraft are maintained to the highest standards of safety and reliability. She will oversee a team of skilled technicians and engineers and will work closely with the airline's leadership to develop and implement maintenance strategies that support the company's goals and objectives.
"I am honored to join the Mesa Airlines team," said DiMarco. "I look forward to working with the talented maintenance team to ensure that our aircraft are maintained to the highest standards and that we continue to provide our passengers with safe, reliable, and comfortable flights."
About Mesa Air Group, Inc.
Headquartered in Phoenix, Arizona, Mesa Air Group, Inc. is the holding company of Mesa Airlines, a regional air carrier providing scheduled passenger service to 106 cities in 42 states, the District of Columbia, the Bahamas, Cuba, and Mexico as well as cargo services out of Cincinnati/Northern Kentucky International Airport. Mesa operates all its flights as either United Express, or DHL Express flights pursuant to the terms of capacity purchase agreements entered with United Airlines, Inc., and DHL. Mesa is leading alternative aviation with proud partners Archer Aviation electric air taxi, Heart Aerospace the manufacturer of 30 seat all electric aircrafts, Elroy Air the developer of hybrid cargo platform, and Regent electric Seagliders.
Contact:
Mesa Air Group, Inc.
Media
Media@mesa-air.com
Investor Relations
Doug Cooper
investor.relations@mesa-air.com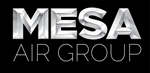 Source: Mesa Air Group, Inc.